Not All Whiteboards Are Created Equal
View video transcript Close video transcript
Not All Whiteboards are Created Equal.
When it's time for you to purchase a new white board, understanding the differences in a whiteboard's surface is key.
We start with the most basic of whiteboards. These can be found in retail stores, and they are intended for home use. These are generally inexpensive, and come in a magnetic and coated paper surface mounted to cardboard and will last about a year.
Next are commercial grade melamine and magnetic whiteboards that are designed for light-use, work environments. With their durable construction, these boards come with a 1 or 5-year warranty. By cleaning & conditioning boards regularly, you will be sure to enjoy a bright, white surface for many years.
Quartet's Total Erase® boards offer the erase-ability of higher priced commercial boards at a more affordable price and come with a 7-year warranty. A Total Erase® coating and subtle grid pattern is applied to a melamine surface making this board resistant to staining, ghosting and denting.
The clean, modern aesthetic of the Infinity™ Dry Erase Board is available in either frosted or opaque magnetic surfaces and are backed by a 15-year warranty. These tempered glass boards are the easiest to keep clean out of all boards in the market today. They will not stain, ghost, or dent!
When you need a rock solid whiteboard, choose a Magnetic Total Erase® Whiteboard that comes with a 20-year warranty. This tough surface is second only to our DuraMax® Porcelain baord for durability. It is designed to withstand heavy-use in commercial, industrial or educational environments. A subtle grid is applied to the board to assist in aligning handwriting or drawing of grids. Simply put, these boards will not stain or ghost and resist denting.
Finally, the rhinos of all whiteboards is the Quartet® DuraMax® Porcelain Whiteboard surface; our highest quality board. The fused enamel and heavy gauge steel surface is backed by a solid substrate. These are the real deal, and they come with a lifetime warranty. You cannot dent, scratch, stain or ghost, the Superman of boards. You cannot go wrong with these.
So the next time you're in the market for a new whiteboard, be sure to keep all of this in mind so you can rest assured you get the right board for the right job.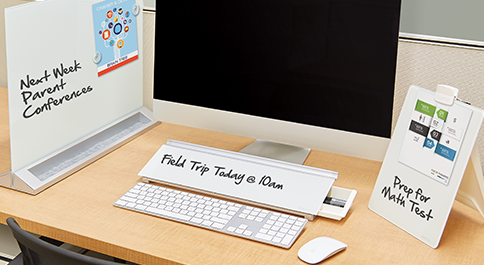 Quartet® Glass Desktop Solutions
Organizing your space just got easier. Quartet® offers glass solutions in a range of designs and sizes for you to stay organized and communicate more efficiently & effectively. Write down great ideas and keep track of daily tasks with these glass tools designed to enhance your desktop space.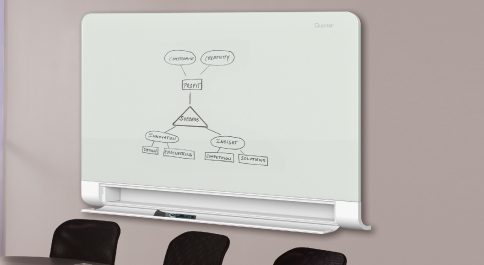 Glass Solutions
Quartet® offers glass solutions from the boardroom to your cubicle space in a range of designs and sizes. Glass surfaces will not stain or ghost and are designed for heavy-use environments.
Did You Know?
If ink remains on the board 24/7, then that is Heavy usage, even if only changed once a week, such as in restaurants.
Did You Know?
Every whiteboard needs cleaning. The better the surface, the less cleaning required.
Did You Know?
Porcelain surfaces are always magnetic, but magnetic surfaces are not always porcelain.