One Size Does Not Fit All – Tips for Choosing Ergonomic Chairs
If your organization have been working remotely, either wholly or partially, then you have likely realized that the chairs in your homes that are good for lounging and dining do not offer the support you need. Especially when you are working for extended periods in front of your computer. In fact, it might be time to consider ergonomic chairs for your dispersed workforce.
Before placing an order, there are a few things to consider when trying to find the right chairs that are optimal for the user. After all, when it comes to ergonomic seating, one size does not fit all.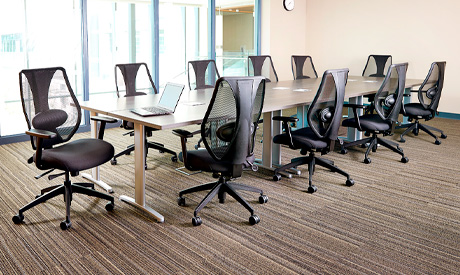 The Benefits of Ergonomic Seating
Ergonomic chairs are designed to support the users' natural posture and help alleviate leg stress points on the body. Since most ergonomic seats are adjustable, users can ensure that their feet rest comfortably on the floor, armrests are positioned close to the side of the body, and the backrest and lumbar supports are angled for the best positioning.
Some features are acknowledged as universally beneficial when choosing ergonomic chairs. A study conducted by a Certified Professional Ergonomist and professor at the University of Cincinnati College of Medicine suggests that a good office chair has adjustable height and armrests, five casters, and lumbar support1.
Finding the Right Fit
Finding the right ergonomic chair can greatly impact your employees' experience at the office or when they are working at home. Equipping your employees with a proper ergonomic set-up can reduce muscle fatigue, increase productivity, and lessen the severity of musculoskeletal disorders, which are among the most commonly cited causes of lost productivity2.
The human body comes in different shapes and sizes. It could be helpful to allow your employees to test different ergonomic chairs before buying them to ensure a good fit. If letting your workforce test different ergonomic chairs may be implausible, we recommend carefully reviewing the chair specifications to help you decide what options are best for your associates.
The process can include verifying that the ergonomic seating you are offering align with the user's preferences in two categories:
1. Components
Colour
Chair material
Frame material
Chair dimensions
Recycle content percentage
Assembly requirement
2. Functionality
Weight capacity
Seat width
Minimum and maximum height – from the floor to the base of the seat
Armrest height adjustment capabilities
Swivel and recline abilities
If your workforce prefers something streamlined and lighter, then explore ergonomic chairs made from varied materials like mesh. Ergonomic mesh chairs offer a more modern and stylish take on the traditionally bulky office chair. Unlike leather and tight-woven textiles, mesh fabric is very breathable and allows for airflow even when you are seated for long durations. Mesh chairs can also provide ergonomic posture support through an array of adjustments that offer a comfortable seating experience.
It is important to know that regardless of which ergonomic seat your organization provides to its workforce, for an ergonomic chair to have a positive impact on your employees' well-being, it is vital that they understand how to adjust the chair properly.

A Few Questions Can Make All the Difference
Asking your employees about their preferences for materials and their body characteristics will allow you to better supply ergonomic chairs that meet their needs.
If you need more insight and guidance to select the best ergonomic chairs for your workforce, then we can help. Our team of experts has access to a wide range of resources and will bring their years of experience supporting businesses and organizations across different industries to confidently recommend the proper ergonomic seating solutions for your situation. Contact us today and let us be your partner in creating a more comfortable, productive workspace.
Email: Interiors@grandandtoy.com
Sources:
1 https://journals.sagepub.com/doi/10.1177/1064804620937907#articleCitationDownloadContainer
2 https://www.forbes.com/sites/alankohll/2019/01/24/how-your-office-space-impacts-employee-wellbeing/?sh=324e1d0f64f3