The Reality Of Retail – Operating Through A Pandemic
Canadians love to shop. According to Nielsen1, Canadian consumers make on average 156 shopping trips per year with an annual spend of $8,645. It's often driven by the shopping experience, and retail companies do a great job of creating one that keeps customers returning. Whether it's the physical layout of the space, the in-store journey or relatable customer interactions, a positive shopping experience is what keeps you competitive and ultimately drives sales.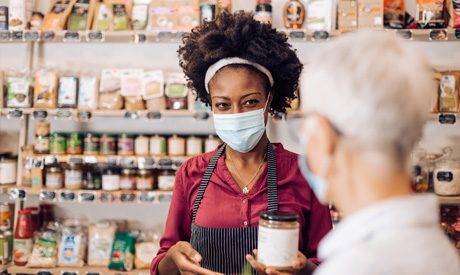 The retail industry has often faced challenges, but the pandemic was probably the biggest. With entire regions under lockdown, tight restrictions on the number of customers allowed in store and strict health and safety measures put in place, COVID-19 hit many stores hard. To survive, smart retailers adapted their business models to include in store solutions to protect customers and/or shifted to offer alternative ways to purchase including contactless pick up and e-commerce.
As a bricks and mortar store, many of the changes put in place amidst the pandemic have been directed by local governments, with different regions moving in and out of different phases and zones – but the overarching message is clear – if you want to continue keeping your store open, you need to follow health and safety guidelines that keep your employees, your customers and the general public safe.
Whether you manage a big box store, run a well-known franchise or own a local independent, we understand that combining COVID-19 health and safety best practices with the integrity of the shopping experience can be challenging. Our solutions can help you navigate the transforming retail landscape.
Shopping Made Safe
Transforming Store Operations to Focus on Health and Safety
We all know that staying apart and increased cleaning protocols are key to staying safe, but there are different options to consider when it comes to putting these practices into place. Factors like location, size of your space and foot traffic should be considered when deciding which solutions will work best for your store.
As a retailer, it's crucial to get proactive about planning for the post-pandemic world. Retailers will need to create or re-create shopping environments that provide a familiar experience while emphasizing cleanliness and a more distanced way of shopping. Along with enhanced e-commerce and in store pick-up options, we recommend focusing on actions such as:
Readily available sanitizing stations throughout the store
Increased availability of protective equipment such as masks, gloves and face shields for employees and customers
Emphasis on physical distancing and traffic flow with signage and acrylic barriers
Reducing the number of high touch surfaces with solutions such as contactless payment systems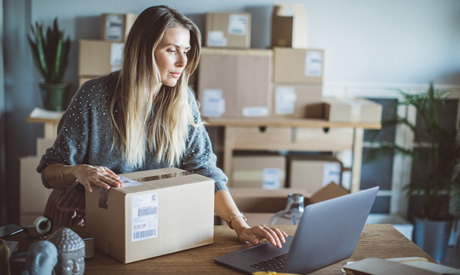 Redefine the Role of Ecommerce
The shift to e-commerce has been well under way for years, but today, retailers have a new sense of urgency to digitally transform as the industry responds to changing market conditions. The pandemic has dramatically impacted the retail landscape, exposing gaps in omnichannel capabilities, business continuity plans, and supply chain responsiveness. It has also accelerated the need for virtual storefronts, with Canadian retail e-commerce sales reaching a record $3.9 billion in May 2020**.
As virtual storefronts become more popular, along with advanced platforms and digital capabilities, the need for efficient processes to fulfill online orders will be necessary. Whether you sell groceries, clothing, or something else entirely, you know that delivery fulfillment comes with many challenges. To help retailers tackle the difficulties of e-commerce delivery, we've put together some solutions to help support your operations:
Mail, Pack and Ship Supplies such as labels, branded packaging, and bubble wrap
Barcode scanners and POS systems for improved shipping organization and productivity
Advanced printers for security and speed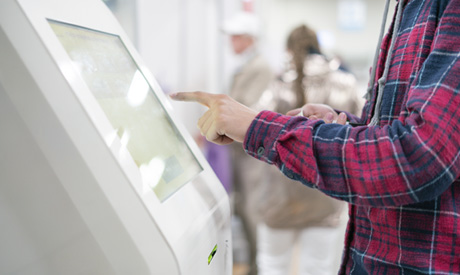 Double Down on Digital
While the pandemic has changed retail indefinitely, there are several technologies that can help you not only adapt to the industry's current demands, but also thrive well into the future.
Adopting an omnichannel presence that includes an online store and brick-and-mortar locations, with technology that supports social distancing and safety will be key for success.
We recommend considering solutions such as:
Digital kiosks
Traditionally digital kiosks were used to deliver targeted ads, product information and instructional product demos, however in this global pandemic it's time to think outside the box. Consider leveraging these kiosks as a tool for social distancing measures and in-store information that would typically be left to a retail associate. To help create digital kiosks, we have an extensive portfolio of digital signage displays and TV's.
Antimicrobial Technology
With multiple associates using the same workstations, it is easy for viruses to quickly spread. Antimicrobial keyboards and mice provide protection against viruses since they can be cleaned repeatedly with disinfectants without damaging the device. This technology can go a long way in keeping staff safe and assuring customers of health and safety measures.
Here to Support You
The economic and financial impacts of COVID-19 have fundamentally changed the outlook for retail spending and the long term social, economic and health impacts are still unknown. By rethinking the role and footprint of the store, investing in seamless digital solutions and offering the right product mix, retailers can still position themselves to win in this new environment. Today's challenges may just be the push retailers needed to make the difficult but necessary choices they now face. In this challenging time, Grand & Toy's expertise and resources are available to help the retail sector respond to the overwhelming changes.
Sources:
* Purchasing Behaviour Characteristics Across Canada
** Retail e-commerce and COVID-19: How online shopping opened doors while many were closing