The End of the Traditional Office: How the World of Work May Change Forever
The global pandemic undeniably altered the way we do business and created a need for innovation. Businesses that relied on in-person customer interactions creatively reinvented themselves, while those who relied on the traditional workplace adjusted to a drastically different way of work. To help navigate post pandemic life, this article provides a look at how businesses, big and small, can reinvent themselves and embrace change to stay successful.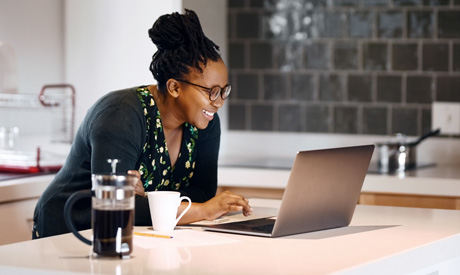 At the end of March 2020, the pandemic forced new ways of operating onto a largely unprepared corporate workforce. A lack of adequate technology, unclear management structures, and weak risk management strategies had leaders worried about the future of business. As time went on, public spaces became taboo, facial coverings and social distancing normalized and technology assumed a more prominent role in business than ever before. All of this led to a fundamental attitude change about office life and forced organizations of every size to rethink their in-person operations.
At a minimum, all companies implemented remote work where possible, social distancing in the office and stricter health and safety measures all around. But, with mass vaccine rollouts, the question now is, what does the post-pandemic world of work look like? We've learned that more people can work remotely than we first imagined, but to make this the norm in the future, new technologies and ways of working will need to be adopted. As for those returning to the office, businesses will need to make significant changes around health and safety in the workplace. Many companies will also likely reconsider their corporate real estate footprint, whether that involves downsizing or redistributing space.
As an image of the post-pandemic era begins to form, how and where we work is looking very different than previous decades. Here are a few aspects of "office life" that will inevitably need to be improved in the wake of the pandemic.
The Hybrid Office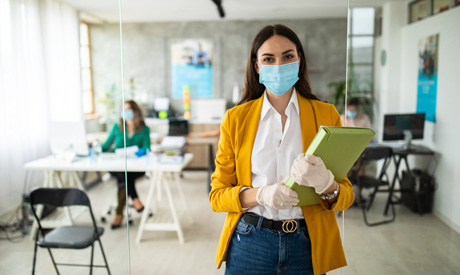 Emphasize Health and Safety
Offices are filled with shared spaces - meeting rooms, lobbies, break rooms, etc. - and these spaces are breeding grounds for germs. Hundreds of employees touch the same sinks, doors, coffee machines, and light switches. While the spread of the virus might feel unavoidable, the fact is that proper cleaning and disinfecting routines can greatly reduce or eliminate the spread of COVID-19 on surfaces and objects in the office. As employers, regardless of your work model – hybrid or onsite, it's necessary to maintain a clean environment and make sure your staff feel safe coming in every day.
To maintain healthy indoor environments, concentrate on germ reducing procedures and policies such as contactless amenities and self-cleaning solutions. Some solutions that we think will be key in the future office include:
Pre-Entry Wellness Checks
As a building's first point of contact — and first line of defense — entrances and lobbies will play a critical role in screening for health, facilitating authorized entry, and enabling social distancing. Having the proper tools and procedures in place to screen employees and visitors will be crucial to policy enforcement. Moreover, by implementing and enforcing these systems, employers can create a more positive experience and reduce anxiety.
Air Filtration
Approximately 75% of the air in the office is recirculated and filtered indoor air*. Managing air flow, operation, and sanitization of spaces will be a key component in instilling confidence in returning employees. An important step in your reopening process should be improving air filtration and making sure HVAC systems are working properly. As an added benefit, these investments also provide cost savings in the long run through improved energy efficiency.
Bathrooms - Autonomous Cleaning Solutions
For shared areas like bathrooms, touchless features will be ideal – e.g. touch-free sanitizer stations, soap dispensers, and toilet paper dispensers. One exception to touchless features is hand dryers, many of which blow bacteria from the air onto hands during drying. Companies may want to consider upgrading to ones with UV and air purifying features or replacing them with touch-free paper towel dispensers.
UV Cleaning Technology
To disinfect office equipment and devices like laptops, tablets, and phones consider investing in solutions that use UV light treatment. It's known for its ability to quickly eliminate harmful pathogens and can provide 360-degree disinfection.
Social Distancing
Lastly, if your office isn't already equipped with these basic solutions, we recommend providing masks and sanitizers to prevent the spread, cleaning supplies so employees can keep spaces disinfected, and signage around the office to keep everyone mindful of safety.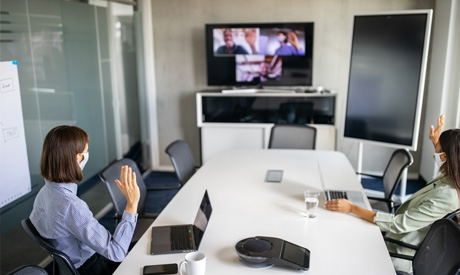 Reconfiguring Office Spaces
There's no doubt that remote working will continue, but office life, in some form, will too. For most people, it's going to feel a lot different than when they left. Where open layouts and people dense spaces were a norm before, the post-COVID workspace will be all about facial coverings, social distancing and limited physical contact. While we don't know what "normal" will be going forward, the opportunity ahead of us is to make the office even better than it was before the crisis. From our experience, the future of the workplace will lie in solutions like:
Flexible Desk Spaces
The largest shift in the workplace will be the comings and goings into the office. Predictions are showing that offices should expect a 50 percent decrease in occupancy**. To best adapt to this, offices should consider implementing flexible spaces. Rather than having assigned desks that are occasionally used, flexible desking will allow for people to come into the office on the days they please and have a place to work, without taking up the space of a personal desk.
Plexiglass Barriers
Businesses can encourage social distancing through the addition of Plexiglass barriers. These large plastic sheets, now being used as sneeze guards, can be placed between and in front of workstations to reduce contact, while allowing employees to still see and communicate with each other.
Video Chat Rooms
Meeting spaces in the workplace will have to be adapted to make in-person-to-remote meetings more meaningful and productive. Many offices already have basic video conferencing and messaging platforms in place, but these standards are the bare minimum. Having dedicated rooms with the right technology will encourage better communication and help sustain a positive and productive work environment in the long-term.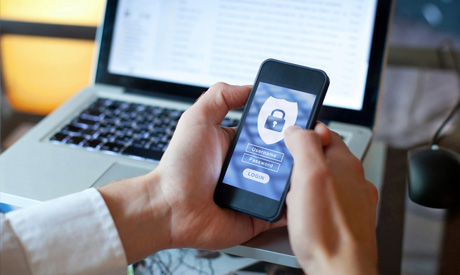 Double Down on Digital
From better collaboration tools to tighter cybersecurity measures, business leaders will need to invest in technology solutions that support operating in a digital world. People, policy, and technology will have to work together to ensure business continuity and the safety and wellbeing of people.
Here are some technologies we think will influence the office in a post pandemic world:
Digital Whiteboards
As remote working continues, collaboration tools like digital whiteboards can help make work more productive. With automatic real-time streaming of whiteboard content, remote and onsite employees can focus on the discussion and forget about transcribing notes from the board or struggling to see low-resolution whiteboard images. Even if they don't fully replicate the in-person experience, digital whiteboards significantly enhance the employee experience, increase efficiency and remove potential communication roadblocks.
CyberSecurity
While remote work and productivity applications sound appealing to all, reliance on technology does come with pitfalls. More connected devices and third-party applications offer more avenues for hackers and cyber criminals to exploit. Businesses will need to invest in cybersecurity systems that protect their data and employees, regardless of where work happens.
Here to Support You
Regardless of what it looks like, we know that the workplace of tomorrow is going to involve a more distributed workforce. The real challenge for organizations will be to provide the right environment and tools that support productivity and collaboration in this new way of work. Some of the changes that we implement may be temporary, while others around hygiene and reducing touchpoints may become permanent. Ultimately, despite all the changes, offices will still be a place for people to interact, socialize, collaborate, innovate, and learn.
At Grand & Toy, we have a deep understanding of the workplace and we're here to act as a partner and trusted advisor for our clients as they navigate to a better normal. If you need expertise, services, and solutions to help you get back to business, we can help.
Sources:
* Reopening: The Tech-Enabled Office In A Post-Covid World
** A Look Into The Workplace Post-COVID-19: The "Anti-Office"