The 2021 Workspace – A Public Sector Perspective
When COVID-19 struck, the public sector suffered a crushing blow. Policies and procedures to limit the spread became priority, employees shifted to working from home, and the needs of citizens changed. The pandemic has upended operations as usual, but despite a changing landscape we can still stay ahead and stay successful. Here are our thoughts on public sector solutions for embracing change.
Over a year ago, the world was faced with a situation where decisions needed to be made with safety in mind. Along with everything else, came the need to transition to different working methods, whether that was remote work, hybrid models or socially distanced office setups. All this, while ensuring organizational continuity and employee productivity – no small task. However, this sudden and involuntary transition due to COVID-19 hasn't been entirely smooth, especially for government agencies. Being at the epicentre of the pandemic, these organizations had to transition to the new world of work while developing plans to protect the health of citizens and maintaining day-to-day operations.
For some, the challenges were around restructuring office setups, collaborating from a distance, or getting equipped with the right tools. For others, their infrastructures weren't robust enough for the new needs of the workforce and they had to change the way their operations were performed. Either way, the pandemic has created a significant change in the way we work. For government employees, it's possibly the most dramatic shift, with 68% now primarily working remotely, compared to 2% before the pandemic*.
COVID-19 has created a need for us to build a culture of workplace flexibility and forced leaders to rethink how they view and measure productivity. While most organizations did a great job of addressing their employees' basic needs of safety, stability, and security during the initial phases of COVID-19, with vaccine rollouts and the post-pandemic workplace in sight, those needs are evolving and we're here to help. As a trusted vendor, Grand & Toy has equipped various government agencies, their offices and employees with the right tools and infrastructure to operate in this new normal. As we continue to move forward, it's time to think about ways we can further optimize and enhance how people work and improve their productivity and wellness.
Paving the Way to a Better Workspace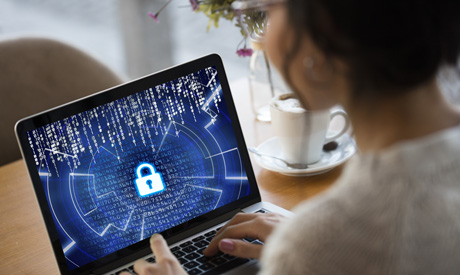 Ensure Protection from Modern Threats with Security and Privacy
With many Canadians, including government employees across the country, accessing sensitive data through virtual private networks (VPNs) and cloud computing solutions, the chance for cyber threats has increased. To help keep information safe, organizations across the public sector should be implementing robust systems and tools to detect, investigate, and take active measures to neutralize threats.
For many, this has meant improvements in the IT infrastructure such as threat detection, vulnerability assessments and data protection. While extremely necessary for protecting sensitive government information, there's more that can be done. It's also important to think holistically and approach cyber security from a wide lens. With 70% of security breaches originating at the device**, we know threats can come from any area of business and even from endpoint devices such as printers and laptops.
Cybersecurity needs to begin with devices that can safeguard themselves throughout their lifecycle. From protected visibility to AI deep learning, today's technology can protect and restore against threats. Some technology solutions that offer great security are:
Jabra headsets
HP printers and laptops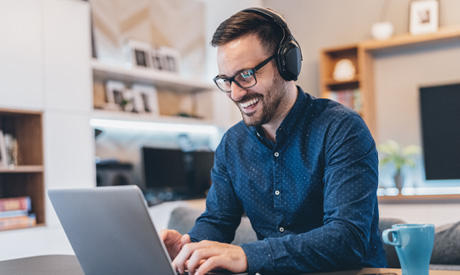 Redefine Productivity and Collaboration to Deliver Service
Government entities have had to adjust to a radically different environment in record time, becoming more efficient and changing the way they interact with customers and enable their employees. At the center of all this are the technology and furniture solutions that ensure collaboration, communication and comfort to keep business moving forward. Initial investments in the office and remote workspace enabled people to adapt rapidly and stay highly engaged, supported and connected, however there's still room for improvement.
Many of us thought we would be back in the office and were satisfied with temporary solutions like working at our dining tables or using regular desks and chairs. However, as we continue in this new work landscape our makeshift solutions aren't going to cut it. It's time to think about going a step beyond and investing in solutions that encourage movement, keep us comfortable and ensure proper posture throughout the day.
If your employees or offices can benefit from improved productivity, we recommend looking into solutions like:
Sit stand desks
Ergonomic task chairs
Monitor stands
Monitors
Webcams
Headsets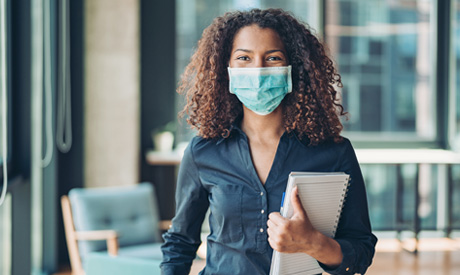 Increase Health and Wellness with Intelligent Solutions
Given the new way of working, the wellbeing of people is more important than ever before. As a government agency you want to improve efficiencies, increase productivity, and save taxpayer dollars where possible, while keeping safety at the forefront.
In the initial phase of the pandemic, organizations prepared their offices with basic health and safety solutions like sanitizers and disinfectants. Now, as we think about the future of work, how can we go beyond the basics to enhance work, productivity, and wellness? What solutions are necessary to keep organizations moving forward and adapting to the changing workplace?
Based on research and best practices, at a minimum, we would recommend solutions that keep hygiene and sanitation at the forefront, like:
Touchless soap & sanitizer dispensers
Air purifiers
Acrylic barriers
Disinfectants
Gloves
Face Masks
Here to Support You
As we continue to grapple with this health crisis, it's critical for governments to move forward with a digital first mindset. It's important to build an infrastructure that encourages and rewards new ways of thinking and working to create a high-performing workforce that can best serve its citizens' evolving needs.
Grand & Toy has contributed expertise and resources to the public sector since the beginning of the pandemic and continues to help organizations respond to the overwhelming changes. Whether it's reimagining the workplace or implementing intelligent health and safety solutions, we're here to help our Canadian government agencies respond to the changing workplace needs.
Sources:
* Government's Workforce Transformation Playbook
** 5 Key Insights From Absolute's 2019 Endpoint Security Trends Report