Personal Protection Against Wildfires
Canada's wildfire seasons typically start as early as April, hit its peak during the summer months, and ends in October1. However, due to climate change and other environmental factors, wildfire season can last longer, make more areas susceptible, become more intense, and require greater efforts and resources to deal with.
Whether you live or work near a high-risk zone or participate in wildfire clean-up efforts, having the appropriate personal protective equipment (PPE) and other essential health and safety solutions on hand is vital to protect you and the workforce against serious injuries and illnesses.
Staying Hydrated
Peak wildfire season takes place during summer, which is often accompanied by dry and hot temperatures. If you reside and work in a dry climate, you probably recognize that heat stress is a big issue that can often be overlooked but need to be prepared for.
Working in high-temperature environments can lead to a variety of heat-induced illnesses, such as heat stroke, heat stress, heat strain and cramps, exhaustion, fatigue, rashes, and other injuries2. In fact, if your body's core temperature continues to rise and exceeds 40 degrees Celsius (104 degrees Fahrenheit), your organs start shutting down, cells deteriorate, and individuals may hallucinate or have seizures3.
In addition, excessive sweating can create an imbalance with your electrolytes that can lead to cramping and, if not treated properly, can quickly escalate to greater health complications. Consequently, we recommend you always stock rehydrating beverages to help your workforce replenish their electrolytes. Rehydrating beverages are typically scientifically formulated electrolyte replenishing drinks that are designed to help the body restore important mineral salts and fluids that support our body functions.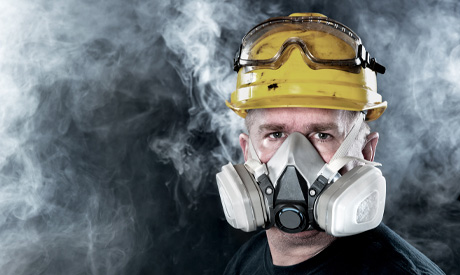 Respiratory Protection
Smoke from wildfire contains burning organic and inorganic compounds that include chemicals, gases, and other fine particles that can be detrimental to your health. According to the Government of Canada, hazards from exposure to heavy smoke can reduce lung function, worsen asthma and other existing heart and lung conditions, as well as generate the following symptoms4:
Runny nose and sinus irritation
An irritated throat that could induce severe coughing
Dizziness and headaches
Shortness of breath, wheezing — including asthma attacks — and heart palpitations.
Using appropriate respiratory protective equipment, whether that be a disposable or reusable model, can help reduce your exposure to harmful particles.
Eyewear
While safety glasses and goggles are common in the realm of protective equipment, we recommend you equip your workforce with foam-lined safety glasses to better protect them from windswept conditions, or dusty and smoky environments similar to wildfire zones. Here are some foam-lined eyewear options to consider: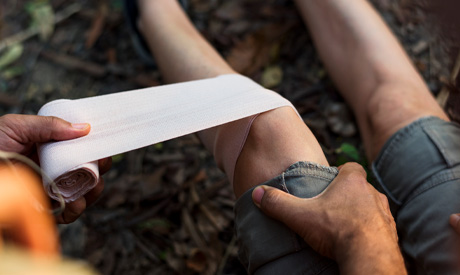 In Case of Emergencies
If you are working or living in a wildfire zone, then you are at greater risk of thermal burns. Thermal burns are one of the five common types of burns and are described to occur when you come into contact with something hot5. Having easy access to burn treatment solutions as part of your first aid kit is critical for emergency care and situations. Burn treatment products can be a quick and effective method of treating burn injuries in a critical stage.
Fire trauma blankets are another tool that is used to better protect yourself and the workforce against fire threats. Fire trauma blankets have versatile applications, which can be used to help protect rescue workers who are entering or leaving a fire area and can also be used to extinguish flames on a person. If necessary, these blankets can also be used as a large dressing to help provide pain relief and begin the healing process while the individual is being transported to an emergency care facility.
Stay Prepared and Protected
With climate change and other environmental factors contributing to longer and more intense wildfires, it is important to stay prepared and protected. With years of experience supporting businesses and organizations across different sectors, we are here to help. Our experts possess insights into best practices and deep product knowledge and can work with you to craft a custom health and safety solution that meets your business needs. Contact us today and let us be your partner in workplace safety.
Sources:
1 https://globalnews.ca/news/8807682/canada-wildfire-season-2022-lookahead/
2 https://dentecsafety.com/blog/pdf_catalogues/personal-protection-for-wildfires/
3 https://time.com/6186988/extreme-heat-human-body-impact/
4 https://www.canada.ca/en/environment-climate-change/services/air-quality-health-index/wildfire-smoke/wildfire-smoke-health.html
5 https://dentecsafety.com/blog/2022/01/06/burnshield-the-different-types-of-burns-how-to-treat-them/