How Your Organization Can Be Winter Ready this Season
As Canada focuses on vaccinating the population and governments gradually ease restrictions, many organizations are planning to reopen in the coming future, while those that are already open prepare for greater in-person interactions. As the return-to-work date remains uncertain for some organizations, one factor remains clear during these tumultuous times: the unpredictable winter season is drawing near. Preparing your facilities for the Canadian winter weather is a must to ensure you can keep your workforce, customers, and clients alike, safe.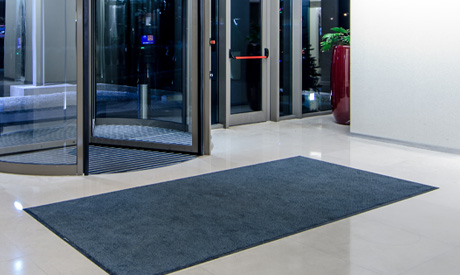 Keep your team safe and your floors undamaged with a covered, slip-free entrance.
Your entrance is a high-traffic area, as your workforce and other essential individuals commute through this space regularly. With more than 40,000 Canadians getting injured on the job because of a slip or fall1, a good mat can not only trap dust and dirt, while absorbing moisture to keep your floors dry, but it is also an essential to ensure the safety of people when they are entering or leaving your building.
That is why we source high quality matting solutions for your business, regardless of whether you have carpeted or non-carpeted floors, to help make sure your workforce stay on their feet. In addition to entrance matting, here are some other solutions for you to consider when winterizing your entryways:
Use an ice melter to thaw out frost and ice to prevent injuries and accidents.
Provide optional boot trays so employees can store away potentially wet footwear.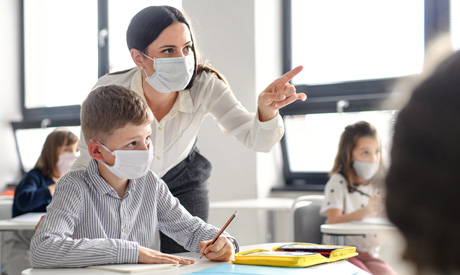 Provide a healthy work environment with clean air & climate control.
Winter is often the season when your indoor air quality suffers the most. Weatherized doors and windows that conceal outdoor air combined with increased use of heating systems can result in higher concentration of indoor allergens. A good air purifier can help simulate ventilation while trapping particulates and harmful pollutants through filtration, which can lead to clean air and help alleviate symptoms.
We can work with you to customize an air quality solution to meet your needs, whatever they may be. Here are other air quality devices you should consider in addition to air purifiers: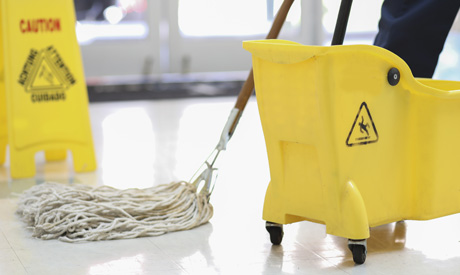 Make your space presentable and germ-free with enhanced cleaning solutions.
A common contributing factor to the risk of workplace slips and falls are wet or slippery floors, which is heightened during winter season when your team can trek sleet or snow into the workspace. Having the proper cleaning tools and floor care solutions can help sustain your facilities, prevent weather or seasonal damage to your floors and, most importantly, protect your workforce.
In addition to general cleaning and maintenance solutions, we recommend you consider some specific floor care products to maintain your space throughout the season, such as: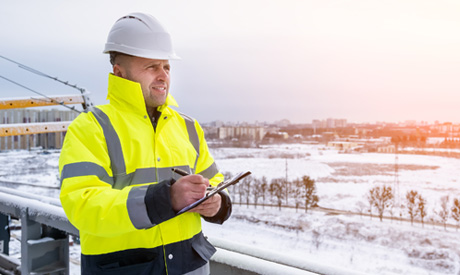 Give outdoor workers the Personal Protective Equipment (PPE) they need to work hard and stay safe.
Having proper PPE is a necessity for you to stay compliant with safety regulations and standards, which will not only allow your outdoor workers to stay warm during this season but can also protect them from accidents.
Specifically, consider adopting the following winter-related safety solutions for your team to prevent workplace injuries because of cold temperatures, such as:
Hand warmers and thermal gloves that can help protect the hands from cold outdoor air.
Heat insulated jackets that are both windproof and waterproof to keep your outdoor workers dry and warm.
Traction devices for footwear, which will help reduce slips and falls when working on ice or snow.
From PPE to medical supplies, and other safety resources, we provide a robust assortment of safety solutions to help keep your team safe.
Reach out to our experts for assistance with your organization needs this winter.
Navigating through extreme winter weather can be challenging for any business. When coupled with the ever-changing working landscape brought on by the pandemic, it can leave your organization wondering where to turn. Reassure your workforce and customers that their health and safety is a priority for your business with the necessary solutions.
With years of experience supporting businesses and organizations across different sectors, we are here to help. Our experts possess insight into best practices and deep product knowledge and can work with you to craft a custom solution that meets your business¿ needs. Let us be your partner in workplace safety.
Sources:
1 People Are Falling - Statistics Are Not
2 Importance of Indoor Air Quality in the Workplace