How Healthcare Can Thrive in the Face of COVID-19
The onslaught of COVID-19 caught everyone - individuals and industries - off guard, but most of all our healthcare system. From scrambling to find space for the large influx in patients to providing unique solutions for access to healthcare, frontline workers showcased resilience and innovation during a challenging time. As we move forward in 2021, Grand & Toy continues to work alongside our healthcare partners to innovate by exploring ways to further optimize access to healthcare, practice social distancing, meet compliance requirements and, manage costs and patient satisfaction.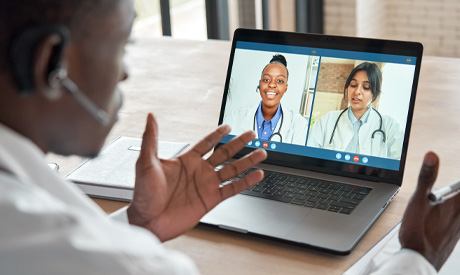 COVID-19 has disrupted lives and economies, but unarguably, it has had the most significant impact on our healthcare systems. Healthcare providers across the country found themselves, like so many other industries, having to quickly reinvent ways of operating, providing patient care, managing supply chains and deploying resources, with the usual methods of doing things suddenly off the table.
The pandemic has put an unprecedented strain on our healthcare system and shone a spotlight on issues ranging from a shortage of testing and medical supplies to a lack of access of care among rural and underserved populations. However, amidst the crisis and uncertainty, the industry has quickly pivoted to new ways of operating, while also innovating and coming together as a community to develop solutions that protect the health and wellbeing of Canadians.
At Grand & Toy, our associates have been working closely with healthcare partners and customers to help solve those big challenges by leveraging our supply chain network and technology solutions to make healthcare work better for today's needs. Recognizing that the requirements of the industry are continuously evolving during this challenging time, we have been working hard to innovate and find ways to help our healthcare partners further optimize and enhance their spaces and patient experiences.
The New World of Healthcare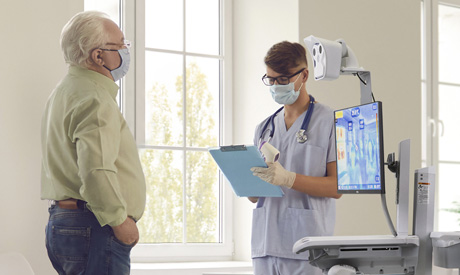 Ensure Health and Safety with Intelligent Solutions
Perhaps more important in the healthcare industry than any other, is the need for health and safety solutions that can assist in minimizing the risk of exposure to COVID-19. While many have been vaccinated, the long-term impact of the virus is still unknown, and our healthcare facilities need to be equipped with the right tools and supplies. Stocking up on simple solutions like disinfectants, sanitizer and PPE supplies – masks, gowns and gloves - will go a long way during this time.
Healthcare facilities should also focus on equipping themselves with the tools, processes, and capabilities their teams will need to move quickly while ensuring patient safety and quality of care. With frontline workers using the same workstations and equipment we recommend looking into solutions like:
Electroclave machines that help disinfect tablets and phones within minutes
Antimicrobial keyboards mice and other accessories which are easily sanitizable
Thermal imaging carts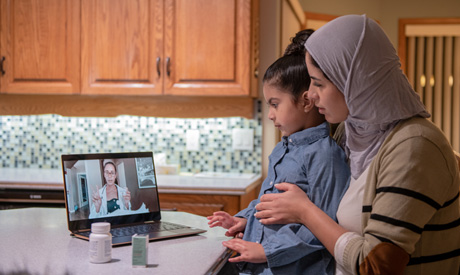 Accelerate Digital Health
As infection rates continued to explode globally, hospitals and governments scrambled to reduce the number of people attending medical sites in efforts to control the spread of the virus. An industry that was primarily driven by in-person visits was forced to move into a digital world. With telehealth accounting for three quarters of physician appointments, it has become the only access point for many patients throughout the country, making investments in the right tools and technology crucial. If your clinic or hospital could benefit from a more professional and efficient virtual patient experience, we recommend looking into solutions like:
Conference and panoramic web cameras to maintain social distancing measures
Tablets to stay connected on the go
Digitizing patient records to improve productivity and boost clinical efficiency
Monitors compliant for viewing medical images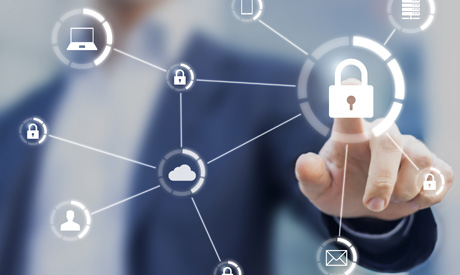 Safeguard Patient Data with Cybersecurity
With many Canadians, including healthcare providers across the country, accessing sensitive patient data through virtual private networks (VPNs) and cloud computing solutions, the risk of cyber threats has increased. To help mitigate this, healthcare practitioners should look at putting systems and tools in place to detect, investigate, and take active measures to neutralize threats.
Beyond the necessary improvements in IT infrastructure, there's still more that can be done. It's also important to think holistically and approach cybersecurity from a wide lens. With 70% of security breaches originating at the device*, we know threats can come from any area of business, even endpoint devices such as printers and laptops.
As a healthcare site, your cyber security needs should begin at the most basic of your devices. Some technology solutions you should consider for advanced security are:
Wireless Access Points
Professional Headphones with advanced security features
Laptops with built in security
Here to Support You
COVID-19 has completely transformed the landscape of the healthcare industry and like the virus itself, there's no telling what its long-term impact will be. What is certain, however, is that our healthcare systems are not only battling financial and operational challenges associated with the pandemic, but also the physical and emotional well-being of their frontline workers.
As our hospitals and clinics continue adapting to the needs of COVID-19 patients while maintaining continuity of care for others, we're here to support them. Whether your facility's challenges lie in the shortage of PPE and medical supplies or the tools and solutions required to work safely and productively, we can help. With an extensive supply chain network and solutions ranging from technology to PPE, we at Grand & Toy are here to help our Canadian healthcare system respond to the ever-changing needs of the industry.
Sources:
* 5 Key Insights From Absolute's 2019 Endpoint Security Trends Report