Create a Better Breakroom
Do you know the benefits of a well-stocked, refreshed breakroom? Creating a space for employees to relax and recharge can improve their happiness, health, focus, productivity, and mental performance. Encouraging your workforce to take short breaks can also decrease stress, on-the-job accidents, and other physical ailments like soreness, musculoskeletal disorders, and eye strain.
Regardless of the industry, taking a break at work has taken on a whole new meaning in today's modern office environment. A breakroom offers much more than standing around the water cooler partaking in casual conversations. Nowadays, a forward-thinking workplace looks to provide its employees with a dedicated breakroom where they can relax, recharge and feel inspired.
Here are five ways that can help you create a better breakroom1: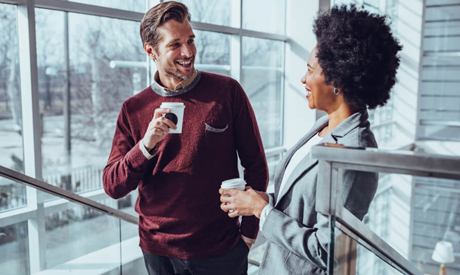 1. Start with Great Coffee
Improve your workforce's morale with a coffee maker, delicious coffee, and other indulgences. We also offer coffee K-Cup Pods in lots of flavours so each team member can savour their favorite. While coffee is great, we understand it is not how everyone wants to start the day. consider adding other beverages like tea, juice, water, soft drinks, energy and sports drinks, and hot chocolate to your offering.

2. Serve-Up Healthy Snacks
Breakroom snacks can encourage employees to take small breaks to recharge. you are also likelier to cultivate a happier team, and a happier workforce can increase performance by 20 percent. Provide smart choices of high-energy snacks and low in sugar to provide long-lasting energy. However, a mixture of candies and cookies is always a welcome treat during busy workdays.
3. Make Eating-In Easy
Food service supplies like cups, cutlery, and even appliances like a fridge and microwave make it simple for employees to enjoy a meal without leaving the building – a great way to boost energy and productivity.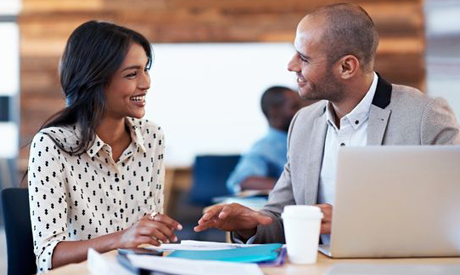 4. Create a Comfortable Space
Remember, the breakroom should not feel like any other space in the workplace. It is a space that is meant to help employees relax and give them an opportunity to refresh so they can better focus on the task at hand for the remainder of their workday. Equip your breakroom with functional yet aesthetically pleasing tables and chairs to provide a place away from work to refuel and recharge. Bring in lounge seating to give people a chance to relax.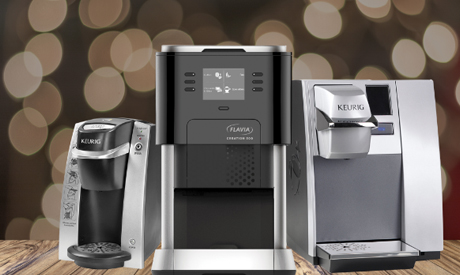 5. Keep Clean Up Simple
Creating and maintaining a clean and welcoming breakroom is not an individual responsibility. Encourage your broader workforce to get involved with clean-ups by ensuring easy access to wipes and other cleaning supplies. Using solutions like compostable dinnerware helps prevent dishes from piling up. Other solutions like food storage, breakroom cabinet, and wire or cable shelving help keep clutter from plain sight and keep the overall space organized.
Make Recycling Easy
When you do not provide recycling containers or make them easily accessible, employees may throw cans and plastic bottles into the regular garbage can. A great way to encourage recycling and composting behaviours are to provide these bins in close proximity to each other for employees to sort their waste. We would also recommend placing signage near the bins to inform associates what should be placed in each receptacle to ensure proper waste management.
Whether you need cups, lids, or utensils, the breakroom is the central place for breakfast, snacks, and lunch for your staff. So, we recommend keeping these convenient and disposable items ready for employees who are always on the go.
Fresh filtered water
Many workplaces offer fresh, filtered water to keep everyone hydrated throughout the day. Water cooler stations now have both hot and cold filtered water, as well as the option to dispense fresh ice.
Single-Serve Brewing Options
Brewing just one cup at a time, can save on waste — offering a sustainable approach — while providing endless flavour options.
You can also encourage or promote healthier habits through the breakroom. There are different workspaces that have dedicated areas for healthier snack alternatives, such as fruits, nuts, and juicing stations, as well as salad bars. For instance, opting for a banana as a mid-morning snack rather than an overly processed option can provide more nutrients and longer-lasting energy.
It might seem like a heavy expense to provide your workforce with delicious, high-quality snacks, but it is a great investment2. When you demonstrate that you care about the health and well-being of your employees, you will find that they are more likely to give you their best — their work can improve, and you can foster a more positive environment.
Just remember, creating an enjoyable breakroom experience is an investment. It is more than just about having functional tables and chairs in an enclosed space and calling it a breakroom. With so many factors involved in creating the best breakroom for your workplace, contact us to learn how we can help. Our team of experts has years of experience supporting businesses and organizations across different industries — and with a wide range of resources, we can help you create a workplace getaway at work.
Email: FacilitiesSolutionsAdvisors@grandandtoy.com
Resources:
1 https://rhymebiz.com/blog/the-well-stocked-breakroom
2 https://studybreaks.com/thoughts/best-break-rooms/