Create Work-From-Home Comfort at Your Office with Hygge
The evolving nature of workplaces and work-life during the COVID-19 pandemic was the topic of intense speculation, discussion, and evaluation. The most common denominator, among them, is an acknowledgment that the hybrid work model is here to stay. Over 60 percent of Canadian employees prefer a hybrid or remote working arrangement, according to a survey by Accenture1. Organizations, leaders, and employees all navigated the challenges of the pandemic by working from home, but now the tide has turned
The hybrid workplace is where employees, leaders, and organizations see a solution to help drive their culture forward. A perfect convergence of both the employee expectations and employer demands. Post COVID-19, employee considerations play a larger role than ever, and organizations are aligned to their importance. To cultivate and retain the most talented and skilled workforce, an organization must also create an enjoyable and comfortable environment.
The popular concept `Hygge' (pronounced `hue-guh') has been prevalent in recent times in discussions regarding personal health and well-being. Hygge is a Danish and Norwegian concept that cannot be easily translated into a single word but rather encompasses a feeling of comfort.
With many employees prioritizing their well-being, they may feel concern and apprehension about returning to their original place of work. Giving your employees a feeling of at-home comfort while they're at work can make this transition easier. It's time for your organizations to embrace Hygge. Let's learn more below.
What does 'Hygge' Mean?
The concept of Hygge describes a way of life2, one that emphasizes comfort and coziness and attributes it to the generation of health and well-being of people (or person) within an environment. Meik Viking, CEO of Happiness Research Institute, describes Hygge as 'an atmosphere and an experience, rather than about things,' and one that 'makes ordinary moments feel special, pleasurable, and meaningful3. It is a practice that is steeped in Danish culture — a country that is often ranked at the top of happiness indexes around the world, especially in terms of employees and work-life.
Hygge can and should be embraced by your organization moving forward. By helping the physical environment of the workplace be as comfortable, inviting, and cozy as possible, you can help regain the healthy, positive attitudes employees have towards their workplace. It can also help your workforce make the transition back to the workplace easier — physically and psychologically. A positive culture is often the cornerstone for collective and individual success, and Hygge can help companies achieve that.
Introducing the Hygge Ethos in Your Workplace
As the adage goes: 'The grass is green wherever you water it.' The basics of Hygge aren't based on complex formulas or economics but on paying attention to the simple things. By altering the physical environment in subtle, creative, and logical ways, you can enhance the workplace environment for your employees' benefit. This can also have positive psychological effects on their mood and disposition, which can further help improve the perception of the workplace environment.
Let's explore some ways how.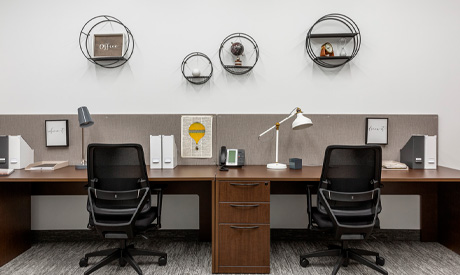 Upgrade the 'Personal Space' of an Employee
Employees who got used to having their own personal space while working from home are likely to want to retain those qualities when they return to the office. Small things can go a long way in helping them achieve that.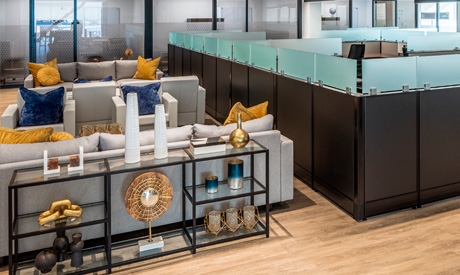 Create 'Cozy Spots' in and around the Workplace
Smart changes to the overall workplace environment can go a long way toward ensuring that it remains as tailored towards the comfort of the employees as possible.
Align the ergonomically modular furniture (chairs, tables, etc.) in creative ways to create collaborative, hang-out areas.
Re-stock pantry and canteen space; add new coffee machines, or refresh the filters; add new cutlery to the mix to entice employees.
Add a few more lounge chairs and sofas to the floor plan to create more relaxing zones for employees.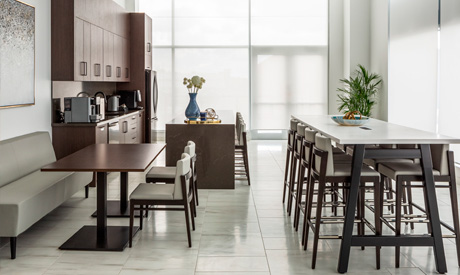 Create a Unique Atmosphere in the Workplace
Hygge is described as the art of being 'unconsciously cozy' by a prominent architecture firm. Hence, a unique atmosphere and ambiance can also go a long way toward making the workplace more palatable and accepting to employees.
Biophilia, wall art, and positive messages displayed on whiteboards can create strong impressions among the employees.
Pleasant background music in group settings like cafeterias and lounges can help inculcate positive moods throughout the day.
Healthy influx of natural light and clean air go a long way toward creating a health-positive environment.
Empower Your Workplace Uniquely
Employees found creative ways to optimize their productivity during their work-from-home days. Your workforce can bring in the same ethos when they arrive back in their original place of work. Translating the positive energy towards personalizing their personal working spaces through a creative touch was part and parcel of the work from home movement.
The psychological and wellness-oriented aspects of Hygge can help your organization boost the enjoyment and productivity of employees. This can not only help empower the workplace in ways that matter most but can also help the organization.
Happy employees are 20 percent more productive in an organization than unhappy ones4. They can help boost the overall productive and creative output significantly.
Happy employees have a positive impact on organizational economics. The most engaged teams show a 59 percent reduction in turnover and a 41 percent reduction in absenteeism5.
82 percent of employees feel that hybrid work has made them happier but also feel organizations need to do more to further enhance it6. This provides incentive and motivation for organizations to innovate with concepts like Hygge.
Aiming for your workforce to embrace work-life in full flow?
Our trained designers can help you materialize a comfortable workplace, using our resources and making recommendations based on assessing your space from a fresh perspective. We have access to a wide range of comfortable furniture, artwork, lighting, and other décor pieces. From cozy communal break spaces to individualized workspaces, we can help you realize the full potential of your workplace in the hybrid era.
Email: Interiors@grandandtoy.com
Sources:
1 https://www.benefitscanada.com/news/bencan/canadian-employees-opting-for-hybrid-work-thriving-less-than-global-peers-survey/#:~:text=Nearly%20two%2Dthirds%20(61%20per,a%20new%20survey%20by%20Accenture
2 https://www.everydayhealth.com/wellness/what-is-hygge-and-why-is-it-good-for-your-wellbeing/
3 https://www.entrepreneur.com/article/308563
4 https://www.forbes.com/sites/forbescoachescouncil/2017/12/13/promoting-employee-happiness-benefits-everyone/?sh=367b95fe581a
5 https://www.forbes.com/sites/nazbeheshti/2019/01/16/10-timely-statistics-about-the-connection-between-employee-engagement-and-wellness/?sh=fd2430722a03
6 https://newsroom.cisco.com/c/r/newsroom/en/us/a/y2022/m04/cisco-study-employees-say-hybrid-work-makes-them-happier-and-more-productive-but-more-needs-to-be-done-to-make-it-more-inclusive.html