Work. Collaborate. Create. Where You Are.
Communication and Collaboration Solutions from Quartet
How we work, collaborate, and create has changed, and many companies are now embracing a hybrid model as a way for employees to better accomplish various types of work. The adoption of flexible work enables employees to be more productive in their preferred environments depending on their tasks, such as in-office for fostering collaboration and creativity or remote to focus on dedicated tasks. This has led to the need for new tools to help employees best accomplish their work.
Quartet® creates innovative dry-erase products that help you collaborate, brainstorm, and explore all ideas. However, it is important to note that not all dry-erase boards are created equal. Many factors are important to consider in deciding what type of board is right for your needs. This includes the initial cost of purchase versus product performance and lifespan; surface performance and frequency of use; maintenance spent on the board, and where you will be using that board.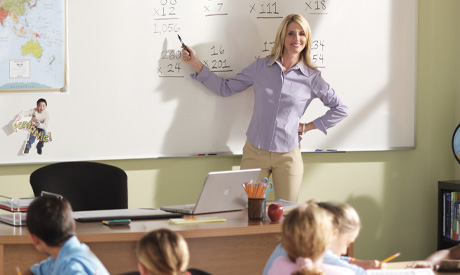 Dry-Erase Surface Types
Quartet has boards available for all budgets, spaces, and frequency of use ranging from light use best for the home or office, to moderate use ideal for meeting rooms, public spaces, and personal use, to heavy-use environments like conference/meeting rooms, common areas, or factory floors. The two most important factors to consider when choosing the right dry-erase board are the level of usage you anticipate and the environment the dry-erase board will be placed in.
Ultra-smooth glass will not stain or ghost, which is ideal for healthcare settings. DuraMax® porcelain is guaranteed not to scratch or dent making these boards a perfect fit for an education setting. Magnetic painted steel boards are best suited for moderate use in spaces with regular traffic, offices and for personal use. Non-magnetic melamine boards are mostly for personal or low-frequency use in low-traffic areas, as they require regular use of cleaners for optimal performance.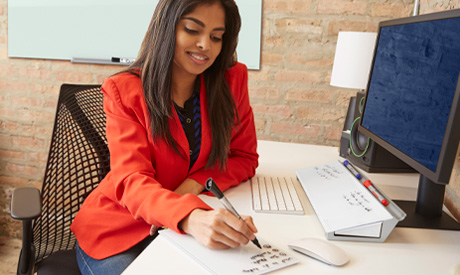 Glass boards have been the fastest-growing visual communications trend in recent years. This is largely because the tempered glass surface provides long-term durability with a modern aesthetic appeal. Quartet glass boards offer fresh designs that complement any space with the durability to stand the test of time. Glass will not stain or ghost and is easy to keep clean. Additionally, although the aesthetic of glass products is modern, the versatility of glass is that it fits in with most décor styles.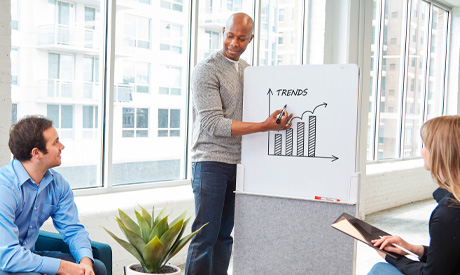 In the Office
What we do when we are in the office has evolved. Office spaces have been redefined as social places made for team exchanges and collaborative work. Communal work areas have become more important than individual offices. With a bigger focus on collaboration, there is a need for flexible and multifunctional tools like large dry-erase boards and presentation easels that allow you to present, problem solve, brainstorm, and collaborate on new ideas.
The best ideas often come from groups, not individuals. A great product to consider for group work is the double-sided Quartet Agile Easel which is designed for teams to use on projects together. Smooth-rolling wheels makes it easy to move this portable easel allowing you to present anywhere. Team members can use both sides at once to collaborative. Utilizing a gas spring lift, you can stop the surface at any height, making it accessible to use both seated and standing.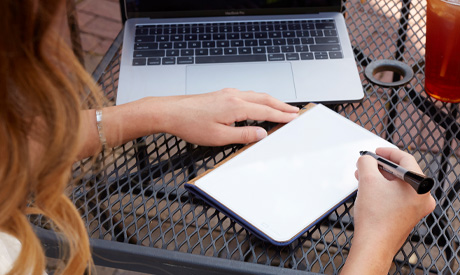 Working from Home
It may seem counterintuitive, but when it comes to working remotely, recreating part of your office environment can lead to a more comfortable working experience, and thus, creating a dedicated personal workspace can turbocharge your productivity. Quartet has a variety of tools for notes, reminders, tasks, and protecting surfaces, all while decluttering your desk of paper and sticky notes. These products allow you to be prepared whenever and wherever inspiration strikes. The Portable Glass Dry-Erase Pad allows you to keep your notes with you, while the Desktop Glass Monitor Riser will help you to make the most of your desk space.
The breadth of glass products has grown over the years to offer solutions for multiple needs and locations.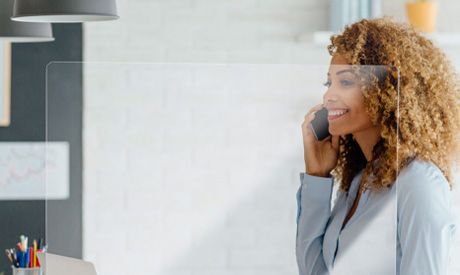 Privacy Dividers
The Quartet Acrylic Table Divider is a tabletop partition that can be used in any cubicle space, classroom setting, reception area, etc. The ultra-clear tabletop divider can be placed in cubicles or shared spaces to create a barrier and separate work areas. The Mobile Room Divider rolls into place to create cubicles and meeting rooms that are both safely distanced and private. The room divider includes a metal frame and sunshine board which allows for natural light to shine through while still helping to minimize interaction. The sturdy metal frame sits on wheels for easy transportation from hallways to work areas.
As more companies commit to a hybrid work model, it is crucial to stay productive in every environment. Quartet offers a variety of design styles, dry-erase surfaces, sizes, and colours to satisfy your needs. Depending on your budget, environment, and level of usage, you can find the right tools to work, collaborate, and create. Elevate your workspace and your ideas with Quartet's portfolio of dry-erase solutions.