Transportation Efficiency
For helping us shorten our routes, have fewer trucks on the road and lower overall emissions per carton – thank you! 48-HOUR DELIVERY is now our standard delivery option because you have enthusiastically embraced this environmentally-conscious initiative.
In a world where every choice has an environmental impact, reducing the number of small, frequent deliveries and order packaging is a crucial step in our collective environmental and economical responsibility. Consolidating smaller orders saves more than just money; it reduces processing time, paper used for invoices and packaging, plus energy and gas consumption from frequent deliveries.
---
Delivering More, Driving Less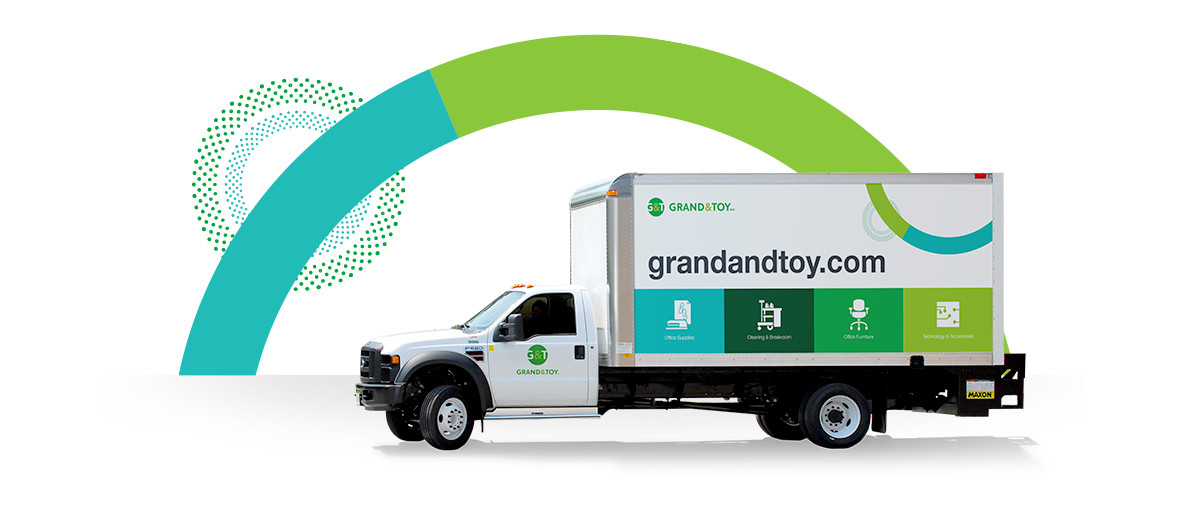 Grand & Toy has embarked on route optimization projects by assessing the areas served by our drivers and ensuring that any coverage overlap is minimized. We also increasingly utilize the third party carriers; most times, this leads to reduced environmental footprint because the courier trucks already deliver to the areas to which our products are being shipped.
In addition, our new fleet of trucks are 30% more energy-efficient than our old ones, further promoting improvements in reducing vehicle emissions as well as climate protection.
---
Mission Critical?
Next Day is still available for rush orders placed within local delivery areas. Contact Customer Service for full details.
---
Leading The Way
Grand & Toy's 48-hour Delivery option was recognized by the Purchasing Management Association of Canada (PMAC) with their 2010 Supply Chain Excellence Award.
---
Right Day Delivery
Through our Right Day Delivery program, options are available (where applicable) to place orders daily yet receive them on specific days of the week. Your Grand & Toy Account Manager will work with you to determine the weekly delivery frequency. Our Right Day Delivery program balances the needs of the environment, your service expectations and cost.