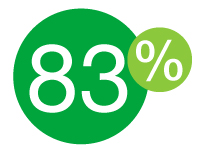 of employees said having snacks or food in the office is a huge perk1.
Snacks, specifically healthier options, can help improve overall employee productivity. A study of 20,000 workers found that those who ate healthy throughout the day are 25% more likely to have higher job performance2. That's why at Grand & Toy, your snacking options are covered. We now have a newly expanded snack assortment to suit everyone's taste. Check it out!
---
Nuts, Seeds & Trail Mix
A great snack to keep handy at your desk, nuts and seeds are a good source of vitamins, minerals and fats which help your brain and waistline3.
Granola & Breakfast Bars
High fiber snacks aid in digestion and control blood sugar helping your employees stay focused on the task at hand.
Popcorn & Chips
Satisfy your cravings for something crunchy and salty, reach for baked chips or air popped popcorn.
Ready-To-Serve Meals
40% of Canadians eat out for lunch. Ready-to-serve meals can be a quick and healthier option for those on the go.
Tea
Full of antioxidants, Tea is a great 'immune-booster' in the workplace. It makes you less susceptible to all the viruses making their way around the office4.

Beverages
The average worker operates at 65% of their potential if not properly hydrated. Access to water in the office is essential to employee's health and to the quality of their work5.
---
Stay fueled and focused when you need it most
with healthier snack options that provide energy throughout your busy work day.
Sources:
---
1http://www.snacknation.com/blog/9-facts-healthy-snacks-workplace/ • 2http://www.snacknation.com/blog/9-facts-healthy-snacks-workplace/ • 3https://navs-online.org/articles/nuts-seeds/ • 4https://www.today.com/series/one-small-thing/top-10-health-benefits-drinking-tea-t81111 • 5http://www.edgarswater.co.uk/about/caring-for-the-workplace.html