Technology Essentials for Your Conference Room
Meetings dominate the business world in Canada. A business meeting can range from brainstorming, presenting, collaborating and more! No matter what the purpose, it's important to have conference rooms, meeting rooms or meeting spaces that are equipped with the proper technology to help facilitate your meetings. You may be wondering what technology essentials your modern conference room needs? Well, read along to find out!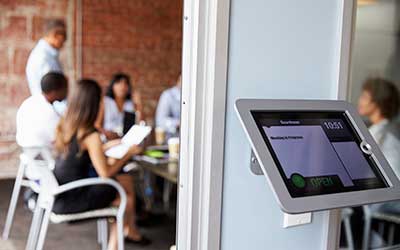 Meeting Room Booking System
With meetings being a regular occurrence in the workplace, conference rooms are in high demand. Without a proper room scheduling system, you will probably encounter a situation where you unknowingly end up in a room that someone else booked. To avoid this situation, we suggest that you invest in a meeting room booking system.
To do so, you will need to begin by connecting the different conference rooms to your employees' calendars. Make sure the conference rooms are named, so employees will know which room they booked. Next, display a smart device or scheduling screen in front of each meeting room that will show the room name and who has booked the room. If the conference room is available, employees should be able to reserve the space on the screen to avoid anyone from coming in to disrupt.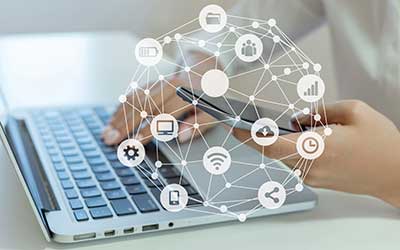 WIFI Network
The next item that should be in your conference room technology equipment checklist may seem like an obvious one - a WIFI network. And we're not talking about that strong router that connects your employees to WIFI. We're talking about a separate WIFI network for your guests and visitors to access during meetings. You may be wondering, why should I have a separate WIFI network for my guests/visitors? The reasons include better security for your business and the prevention of a slower employee WIFI network.
Ensure that guests are aware of this network by providing them with the login credentials by email or by making the network name and password visible in the conference room, this will help avoid any lost time during the connection process.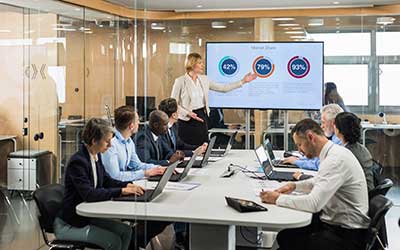 Large Format Display Monitors
The technology you decide to put in your conference room needs to benefit the people who will be using it. One technology that is beneficial to everyone in the conference room is a large format display monitor. This monitor is a large flat screen that is usually placed in the front of the room. It is normally used to display a presentation so everyone in the meeting can easily follow along.
When you decide to get a large format display monitor for your conference room, you should keep in mind the size of the room. A good rule to remember is that the bigger the room the large the display.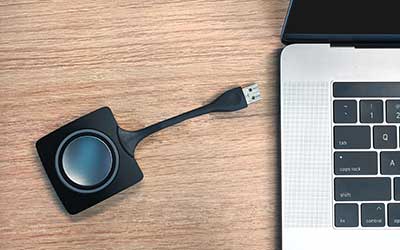 Wireless Display Adapter
Conference room equipment today, especially technology needs to be easily accessible. In the section above, we discussed how large-format display monitors allow you to easily share your presentation or thoughts for everyone to see. But, how is the presentation from their device being shared to this screen? With the use of a wireless display adapter. A wireless display adapter allows users to share their device to the display without physically tethering the two devices.
A wireless display adapter that we suggest for your conference room is one with click share technology. Click share technology makes screen sharing easy, all you have to do is plug the device into your laptop and with the click of a button your laptop screen will be on the large display monitor for everyone to see. With this type of technology, you'll be able to share your screen quickly, so you can begin your meeting or collaboration session.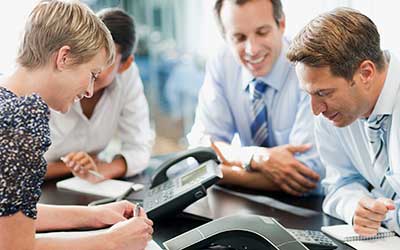 Phone Conferencing Technology
With more and more people working remotely, having meetings with people who are not in the office is a common occurrence. Thanks to technology on your laptop, having a conference call with someone not in the office is easy. But, what happens when you have a meeting with multiple people and a few are working remotely? You will need to enlist the help of phone conferencing technology because without it people online will find it difficult to hear what is being said in the meeting. This type of technology - such as a Polycom sound station, has a sensitive microphone that ensures that everyone in the meeting can clearly hear what is being said.
How Can Technology Help Improve Your Meetings?
Conference rooms are an essential part of any business. It gives people a space to meet, present ideas, collaborate, and more. By implementing the right technology in these meetings rooms, your business meetings will be further enhanced. As, technology in conference rooms can help reduce any lost time, increase efficiency and makes meetings more accessible for remote workers.