Back to Work After Summer Vacation
No matter how old you are, it's hard to kick that back-to-school feeling that approaches when September is on its way. That back-to-school feeling can bring forth a variety of emotions. Maybe you used to get happy about the beginning of a new school year, or maybe you were nervous about starting a new chapter. No matter what feeling you used to get, we can probably agree on something we've all felt at one time - the excitement of going back to school shopping and picking out our favourite school supplies - ranging from notebooks, binders, pens and more!
So, why is it that we can't seem to kick this back-to-school feeling? It probably has to do with the fact that many Canadians tend to take vacation during the summer months and this includes small business owners. On average, around 55% plan to take a vacation during summer.So, considering the end of August marks the end of the vacation season and the return to work, it's easy to see how that back-to-school feeling can come rushing back.
So, to help you with this back-to-school feeling that you get as a small business owner returning to work after vacation, we've come up with 5 suggestions that you should consider when you return to work.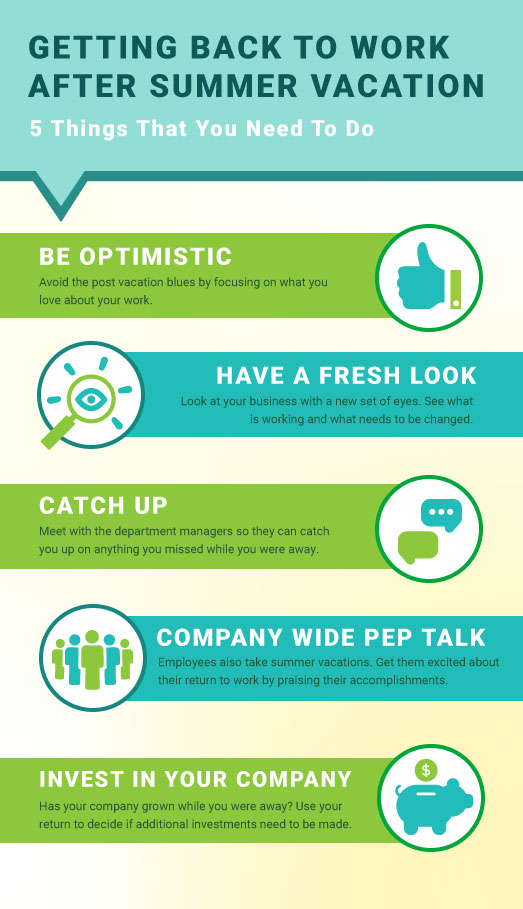 Be Optimistic
For many of us, the end of summer represents an end to our summer vacations. While it can be easy to get caught up in post-vacation blues upon your return to work, it can be just as easy to avoid them!
A day or two before your return, when you may be feeling down about coming back to work, we want you to remember why you started your business in the first place. Think about how far your company has grown and everything that you have achieved.
We also want you to remember everything that you love doing at your company, whether it is being in the daily grind, running a team, collaborating with your employees, meeting with customers or anything else you may do. Let your optimism take over any negative feelings you may have about you coming back to work, to get yourself excited about your return.
Have a Fresh Outlook
One of the best things about taking a vacation is that it gives you the opportunity to have some time away from your business. It gives you a chance to refresh and recharge your mind in a different setting. Therefore, we recommend returning to work with a fresh outlook - which would have previously been difficult to achieve.
You can use your refreshed set of eyes to consider the following: Is there anything that you could do to improve in your business. Have you or your employees been having any trouble or roadblocks before you went away or during your vacation? Is there anything that was working, but now needs to be updated?
Catch Up
As a small business owner, going on vacation does not mean shutting down your business. It means that you will be leaving your business in the hands of your employees, specifically the department managers. Since the managers will be in charge of ensuring that your business runs as smoothly and successfully as possible when you're away, they will be the ones you turn to, to get you caught up on anything you may have missed. So, when you return to work, schedule individual meetings with your managers, where they can discuss any success or issues they may have encountered during your time away.
Company Wide Pep Talk
With summer coming to an end, you won¿t be the only one returning from your vacation. With 55% of people planning to take a vacation during the summer months, chances are, some of your employees will also be returning to work. And just like it is easy for you to get caught up in post-vacation blues, employees can be affected by it too.
To avoid this, have a company-wide meeting where you can give your employees a pep talk. Discuss all the positive things that your managers have caught you up on. Congratulate employees on everything they have accomplished and get them excited about the future success of the company.
Invest in Your Company
You¿ve taken time off to relax, but now you are back to work. After meeting with your managers and having a company-wide meeting, it is the perfect time to consider making additional investments to your company. These investments can range from hiring a new employee to filling a newly needed role, updating any old technology, or even sending employees to professional development workshops.
Returning from Your Summer Vacation
Aside from the suggestions above, remember to get a good night's sleep before your return. It will help you stay alert during your first day back, so you can properly catch up on anything you missed.
Sign up to receive big savings for your small business
*Must sign up for a new account to receive 20% off purchase over $75. Promo code will be available once sign up is complete.