The New Working Normal: Keep Your Remote Workers Productive, Healthy & Connected
Many businesses are thinking about the challenges of getting back to work. In some cases, entire workforces could return to their place of business but under conditions quite different from before. Others – perhaps due to productivity, cost savings, or work-life balance in working at home – might continue the arrangement, either wholly or partly.
To help support this at home working experience you will need to provide employees with the right solutions to help them stay productive, healthy and connected.
Have a Dedicated Place to Work
For those employees working from home on a more permanent basis, it's important to encourage them to set up a designated workspace that replicates the office experience to create a physical distinction between "work time" and "home time." Having this separate workspace will help set boundaries that will allow employees to be more productive.

Whether it is a separate home office or a shared area, we suggest outfitting the space with:
The reason why your chair needs to have the above is that a good ergonomic chair helps prevent back and neck pain. And for this to be achieved, the chair will need to have the ability to be properly adjusted to your body. So, if you're at home right now, sitting at your kitchen table working or sitting on your bed working from your laptop, you should consider investing in a new ergonomic chair.
By providing employees with these two solutions you can help them work comfortably and more productively throughout the day.
Provide the Right Equipment
The tools and equipment that support the productivity and health of employees working in the office will provide the same value to employees who are working from home. Providing employees with access to the following will help them remain productive:
Ergonomic Solutions:
Products such as multiple screens, ergonomic mice & keyboards along with laptop stands will allow employees to feel the same level of comfort at home as they would in the office.
Upgraded Equipment:
The latest security software will help protect against hacking or malware.
New & Powerful Laptops:
Newer and more powerful laptops allow employees to have a faster internet connection which can boost speed and productivity.
Printing Solutions
We suggest providing employees with an all-in-one printer that combines multiple peripherals into one simple unit, allowing for more desktop space. If printing in high volumes, an upgrade from an inkjet to a laser printer just might be the thing they need to help them turn around critical document quicker.
Private Information Protection
For teams or individuals who print confidential materials, a shredder will help to protect private information before it goes into the recycling bin.
Office Supplies
Make sure to provide employees with the office supplies that they need so they can remain productive while working from home.
Requirements for Remote Collaboration
When it comes to a successful work environment, collaboration is key. Technology is a necessity to keep the team connected. Email, instant chat and video conferencing systems help employees share information and collaborate.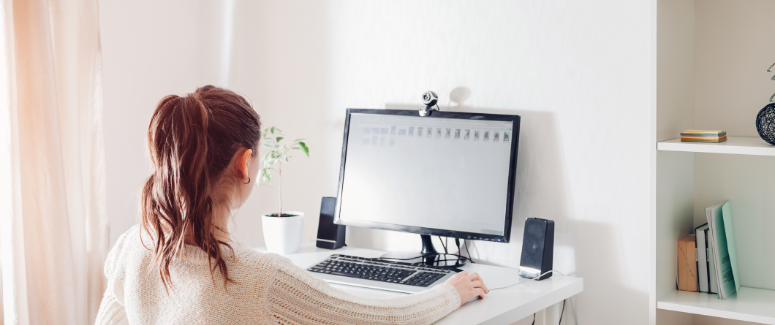 If you aren't using or considering it already, a cloud-based collaboration platform like Office365 allows users to connect with the information they need from anywhere at any time. Documents can be easily shared and worked on as a team - the team can even see real-time changes – which helps improve productivity.
While laptops have built-in microphones, cameras and speakers – they aren't always the best for videoconferencing. The video quality may be poor, and the microphones may pick up additional sounds or force people to lean in and speak loudly to make themselves heard. External web cameras and microphones are relatively inexpensive and deliver better picture and sound quality that can improve the overall video conferencing experience.
Upgrading video conferencing will not only help with internal meetings but external meetings with customers and vendors. By having the right technology, it will be easy for your employees working from home to feel connected to everyone in the office.
Think About Technology Support
Offices generally have IT support on hand that an employee can call if things break down. When employees are working from home they won't have this same support, even though they could need it. Make sure that you have a service desk and IT department that can handle issues remotely and give advice to the team when needed.
In your office, ensuring the internet network is secure is essential. When employees work from home, they don't always have the same level of security, this leaves an opportunity for hackers. Encourage employees to properly set-up their WIFI network by changing its default name to one that isn't easy to identify and combine this with a strong password. Doing so will prevent hackers from being able to tell which kind of router is being used. You should consider installing and updating anti-virus software on your employee's laptops. This is especially important for employees that use their own personal devices.
Most organizations rely on Virtual Private Networks (VPN) to encrypt data and scan devices for malware as well as blocking hacking attempts through remote devices. Too many users can lead to network slowdowns, or users experiencing complete connectivity failures or crashes. Load testing is key. Employees who are using a VPN for the first time will also need to be educated on when and how to use it.
Make Remote Work Successful
While it is important to provide the right support for your employees who are going back to the office, the same support is needed for your employees who continue to work from home. By following our tips above, you can keep your remote workers productive, healthy and connected!