Reopening Your Business: How the Workplace Will Change
Are you making plans to reopen your business, but aren't sure how to navigate the changes safely?
If your business is ready to reopen, it will be important to adapt to a new working normal as COVID-19 has transformed the workplace to one more heavily focused on ensuring the proper health and safety measures are in place to protect both employees and customers.
The way businesses operate will have a different look and feel than before. Below we have highlighted how the workplace will need to change before you return and elements that you will need to consider.
Dedicated to Cleanliness
While your business may already be thorough about cleanliness, due to COVID-19, you will need to be even more dedicated than ever. The Canadian government offers guidelines when it comes to cleaning and disinfecting common spaces. Some of their recommendations include:
Increase frequency and thoroughness of your business's sanitizing measures, especially in common and shared areas.
Clean with soap and water then use a disinfectant.
Clean and disinfect high touch surfaces.
Use only approved hard surface disinfectants that have a Drug Identification Number (DIN).
Use damp cleaning methods such as damp clean cloths, and/or a wet mop. Do not dust or sweep as they can spread virus droplets through the air.
Contaminated disposable cleaning items (e.g. mop heads, cloths) should be placed in a lined garbage bin before disposing of them with regular waste.
Reusable cleaning items can be washed using regular laundry soap and hot water (60-90°C).
Touch Becomes No Touch
To help facilitate a touch-free environment that reduces the number of touch points even further, you should also consider implementing the following:
Installing motion detectors or voice command functions to activate light switches.
Removing nonessential doors and keeping doors open, if viable.
Encouraging the use of personal mobile phones instead of conference phones.
Providing cleaning supplies and instructions so employees can disinfect their own spaces and common areas.Reducing the use of shared equipment, such as printers and copiers by having a system in place that provides more of this equipment between fewer employees.
Securing supply storage and designating specific people to manage stock and distribute items.
Staying Together by Staying Apart
Before COVID-19, it was normal for employees to share a conference room, or to approach one another's desks to ask a question – it was a great way to stay connected. Moving forward, employees, customers and suppliers will have to connect while keeping a safe distance of 2 plus metres from one another. To help maintain safe distances throughout the office, businesses should consider the following: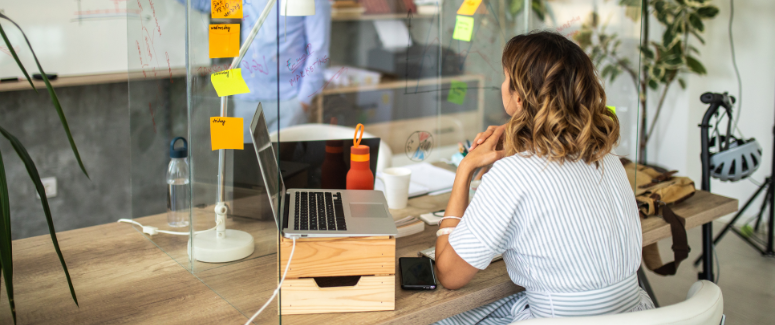 Do a thorough examination of the current workplace safety setup and see where improvements can be made.
Create traffic routing in the office that helps keep everyone safe.
Establish workstations 2-metres apart (you can put tape around workstations showing what 2-metres is).
Separate open-plan offices with high partitions and, where needed, Plexiglass shields.
Provide reception with a personal germ shield pass-through window.
Use crowd-control stanchions and partitions, and safety cones to keep people apart.
Designate and train an employee responsible for advising on social distancing measures.
Stagger employees' arrival/departures times.
Alternate days of weeks in office and working from home.
Reduce space capacity (for example remove some chairs from meeting and conference areas).
Limit gatherings in small rooms (convert these to single use spaces).
Use signage to communicate clear rules of physical distancing.
A New Type of Face Time
Previously, it was normal for employees to be in the office for in-person meetings with colleagues. Due to new physical distancing measures requiring individuals to be 2-metres apart, the way employees interact will have to change. It will be important for businesses to educate themselves on what type of protection they need to provide their employees, including personal protection equipment (PPE).

PPE may include the following:
Rethinking the Office Floor Plan
With physical distancing an essential part of staying safe, popular office trends such as open floorplans, and collaborative or social spaces will need to change. Businesses will need to find ways to break up the office space to better keep people apart. High partitions and Plexiglass shields could be part of this solution.
While workplaces were previously built for function and productivity, they will now need to consider safety. Office layouts will need to enforce safer distances that can also be supported by controlled access measures to facilities. Some of these may include:
Controlling entry points, including deliveries.
Reconfiguring gathering spaces, lobby areas and the office to ensure physical distancing.
Redefining shared spaces.
Communicating building protocols through signage and floor markings.
Considering temperature screenings as people enter the premises.
Providing sanitizer, wipes, and PPE as appropriate.
Disabling touch screens.
Turning smaller conference rooms into single use areas.
The Rising Value of Virtual Meetings
If the space capacity of meeting rooms is reduced in the workspace update, it will allow for physical distancing. Even with meeting attendees physically in the building, there may not be enough space to allow for a safe distance between people.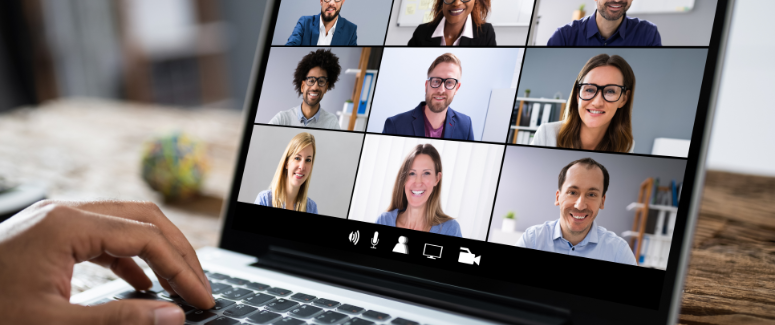 With the ability to hold live meetings, share computer desktop presentations, and use other collaboration and communication tools, virtual teams have, in many cases, been able to conduct business as usual. This method will most likely continue in the future.
Are You Ready to Get Back to Business?
Due to COVID-19, we will not be able to go back to business the same way as before. Making changes and adapting to the new work environment will help you have the right safety measures in place to keep your workforce safe. So, if you're ready to get back to business or if you are starting your back to business plan, consider the different ways that you can prepare and plan for the new normal.