Empowering Rescuers At Every Level
The Powerheart G5 Helps Save Lives
---
Sudden cardiac arrest occurs with a frequency of roughly 1 per 1000 people 35 years of age or older per year. Having a defibrillator in your workplace may help save a life.
The Heart & Stroke foundation predicts that for every one minute delay in defibrillation, the survival rate of a cardiac victim decreases by 7 to 10%.
The Powerheart G5 is the first and only Health Canada cleared Automated External Defibrillator (AED) to combine; Real-Time CPR Feedback(iCPR), Dual Language Functionality, Variable Escalating Energy and Fast Shock Times to save a sudden cardiac arrest victim's life.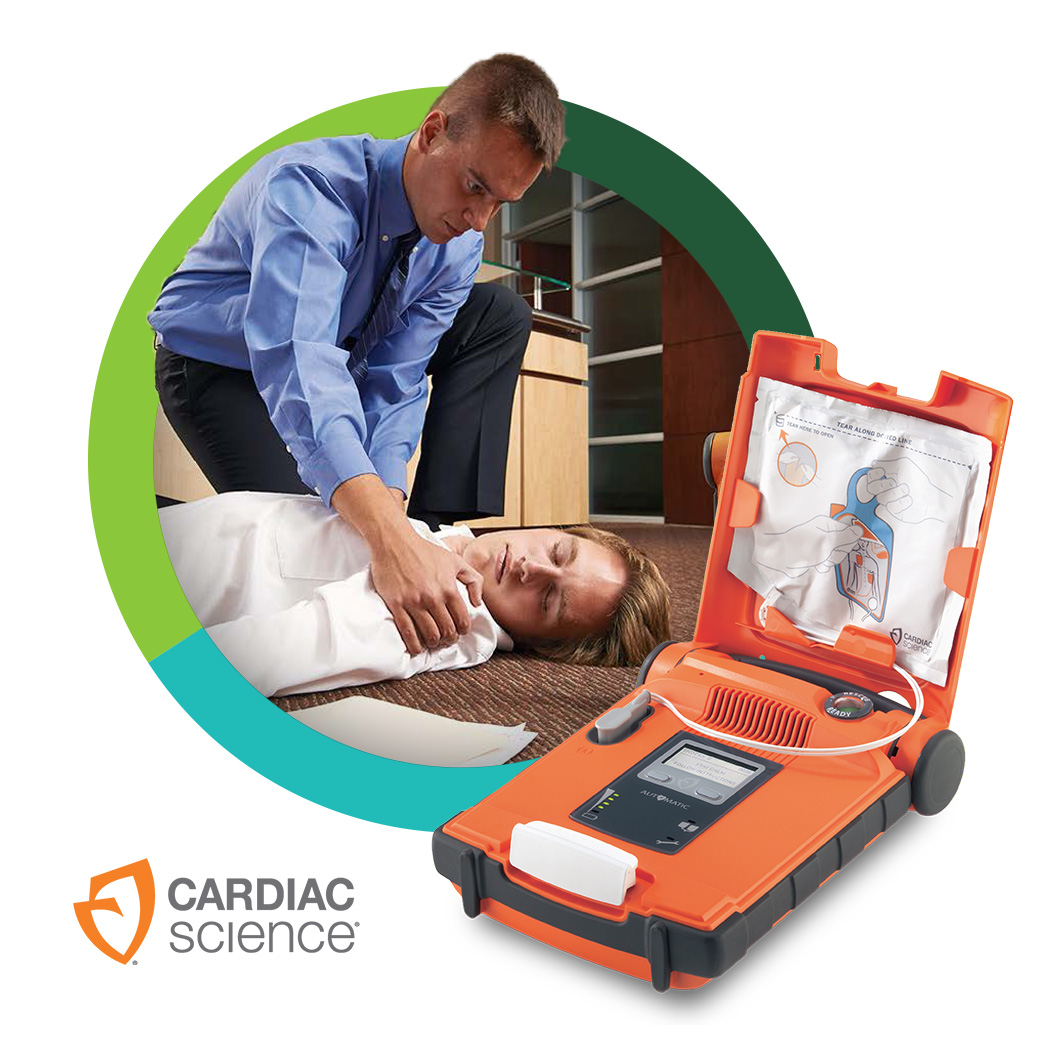 Easy Without Compromise
Intuitive from the start with immediate voice and text prompts
User-paced instruction
Data immediately available
Reliable And Rugged
Tested to military standards
Features an IP55 rating for protection against dust and water
Effective CPR Made Easy
Simple place-and-press design
Optional Intellisense™ CPR Feedback monitors the quality of both chest compression depth and rate
Peace Of Mind
8-year warranty
Easy to use
View video transcript Close video transcript
0:09Meet the Powerheart G5, a new
0:12AED that combines ease of use, reliability,
0:16and advanced technology to help professional and first-time rescuers
0:20respond to a sudden cardiac arrest victim.
0:23Sudden cardiac arrest can strike anyone without warning
0:27but a victim may survive if treated with a defibillator within minutes
0:31to restore the heart to its normal rhythm. That's why Cardiac Science
0:35developed the new Powerheart G5 AED
0:38to enable almost anyone to act quickly and confidently to save a life.
0:43The Powerheart G5 is the first AED that combines RescueCoach prompting
0:48fast shock times and variable escalating energy.
0:51This rugged AED has an IP55 rating
0:56and customizable settings to match the skills and preferences of the user.
1:00Intellisense defibrillation pads and medical grade batteries
1:04use embedded smart circuitry to communicate performance
1:08condition and expiration date directly to your Powerheart AED
1:12this ensures your Powerheart is ready at a moment's notice.
1:16The Powerheart G5 is easy to see from a distance
1:20The highly visible green indicator confirms that the AED has passed
1:25rigorous daily,
1:26weekly, and monthly self tests and is ready to perform a rescue.
1:30Operation is intuitive from the start
1:34with immediate voice and text props.
1:37stay calm follow these instructions make sure 911 is called now
1:41set the G5 to give enhanced props for lay rescuers
1:45or fewer props for experienced users. You can even switch to an alternate language
1:50with the touch of a button.
1:52The Powerheart G5 defibrillation pads going in either position
1:57so there's no guesswork. The G5 analyzes the patient's heart rhythm
2:01and determines if a shock is needed. The fully automatic
2:04AED even delivers the shock with no human intervention
2:08and no delays. The G5 determines if a second shock is needed and automatically
2:14escalates the rescue energy.
2:16It is the first AED they can quickly deliver this high-energy shock
2:20typically in 10 seconds or less. After the rescue
2:25you can easily access rescue data via a USB port.
2:29Cardiac Science backs the Powerheart G5 with responsive local support
2:34Rescue Ready AED services and an eight-year warranty.
2:38Now here's a demonstration of the G5 in action.
2:41When you open the G5 you'll immediately hear
2:45make sure 911 is called now begin by exposing patients bare chest
2:50remove white square package from lid of AED
2:53tear open white package across dotted line and remove pads
2:57peel one of the white pads completely from blue plastic
3:02firmly place the pad without the blue plastic on the patient
3:05next peel second white pad from the blue plastic
3:09firmly place the second pad on the other location exactly as shown on pads
3:14do not touch the patient analyzing heart rhythm please wait
3:19shock advised do not touch the patient
3:22shock will be delivered in 3, 2, 1
3:25shock delivered it is now safe to touch the patient
3:30give CPR as instructed place heel of one hand on center of chest between
3:35nipples place heel of other hand
3:37directly on top a first hand lean over patient with elbow straight
3:41start CPR
3:51give breath give breath
3:55once the CPR cycle is complete the G5 automatically analyzes the heart rhythm
4:00and delivers additional therapy if necessary with a combination of advanced
4:04features you won't find in other AEDs
4:07The Powerheart G5 can help professional and first time rescuers make the
4:11difference between life
4:13and death. For a demonstration of the amazing new Powerheart G5
4:18contact your Cardiac Science certified AED specialist.